The Gift-A-Long is going to an end, but it's never too late to meet another designer – our guest today is wonderful 
Kate Bostwick
. Her wide range of patterns will definitely get you interested! Accessories, baby items, home decor and clothing – what else could you wish for? All the
amazing designs
can be seen
here
.
 It was a real pleasure to browse through her designs – I'd really love to make her Helen Pencil Skirt. Check it out and you'll know why – so pretty! And while you're at Ravelry, join Kate's group, too – this way you'll be the first one to know about the new patterns and promotions!
Kate, asked about the designer whose designs she discovered during this year's Gift-A-Long  said she really liked the designs by Ruth McKeon from Celtic Knits. She particulary loved her Fiorghra scarf. And I know why – it's gorgeous, isn't it? Be sure to check her other patterns, too!
Posted on : December 31, 2015 | No Comments
---
Just like last year, I chose a few designers taking part in the GAL and asked them for a short interview. Below you can see the result of the first interview – our guest today is marvellous Tanja Luescher from Knitted in Switzerland. She's the true master of lace shawls, so if you're looking for some good use for your lighter weight yarn – search no more. You'll probably like one of Tanja's patterns! This way to the patterns!
All photos by Tanja Luescher.
If I were to make something from Tanja's beautiful designs, I'd chose Arosa Cowl. Wondering what it looks like? Check it out here!

Apart from the questions about the designs, I asked each designer about their experiences from the GAL and if they discovered any new designers themselves. I'm congratulating myself on asking this question, because I discovered some great designers, too! :)
Tanja chose Natalia Sha and is making her gorgeous Vining Roses for this year's Gift-A-Long! Be prepared for loads of gorgeousness when you visit Natalia's designs here.
Personally, I'm in love with this design:
Photo by Natalia Sha.
Click here to see it in more details ;)
Stay tuned for more wonderful designers' interviews!
Posted on : December 10, 2015 | No Comments
---
That was a LONG break! But there was a lot going on, too… I had loads of work with designing, and my other job (selling crafting materials) and the
Gift-A-Long on Ravelry
of course! I take part in it as a "double agent" – a designer and participant. As a designer, I hope to add this cutie to my eligilble patterns soon:
It's a crochet version of my Swinging Kitty Ornament.
As a participant, I already made
Eagle Fern Bonnet
, by Meiju K-P. It was a very enjoyable knit – the pattern is clear and the hat is beautiful and warm. I added a pompom because I love them :)
Right now I'm working on a pattern I bought for a Gift-A-Long last year (ooops!). I wanted to make it so badly, because it's so pretty (Little Taliesin by Leeana Gardiner), but I didn't have the right yarn (still, after a year…). So I'm making size 3 months with bulky yarn. We'll see how it works out :)
Posted on : December 9, 2015 | 4 Comments
---
I'm working on the mystery CAL we will have in my Ravelry group soon (You're all invited! Feel free to ask if you have any questions!) and because I was asked about the recipe, I decied to write about pancakes today! And not the usual pancackes, but deliciuos and fluffy peanut butter pancakes. Oh, yeah!
I was looking for a good peanut butter recipe and found two trends – with the addition of bananas or baking powder. I decided I need both in mine to make the both sweeter and softer. And definitely in bigger quantities than 4 – 10 (the usual recipes were for this amount). But I'm a pancake-eater and have 3 more hungry pancake-eaters, so we needed more. I made my own version, then, and they turned out great!

Sorry for  not having more photos, but I wasn't expecting so much interest and didn't even plan writing about it :)
Recipe
Ingredients:
3 eggs
9 heapieng teaspoons of creamy peanut butter (I use natural, with no additions)
120g flour (mine was mixed all puropse and whole wheat flour)
1 cup milk (can be more or less depending on the size of eggs and banana, so don't add everything at once)
1 big, ripe banana
1/2 teaspoon baking powder
Instructions:
Mix eggs with peanut butter, add banana and then milk and flour mixed with baking powder (small amounts, in turns). Heat the frying pan (with no oil or butter – they will fry well without them, due to the fat from the peanut butter). Using a table spoon, pour the batter on the pan and fry on the minimal heat (they need to fry slowly, so that they're good inside and not burned on the other side). You will see some bubbles or even tiny holes appearing – this is the time to flip them. They other side needs less time frying, so just check when they're browned and take them off the pan.
Since they're not sweet, I recommend eating them with chocolate, honey or maple syrup :)
Posted on : October 3, 2015 | No Comments
---
Aaand knitting continues… I miss crocheting a lot. Really. I'm working on a submission that is crocheted, but that's too little it seems!
Today's post will be superquick as I'm superbusy. But I hope to have another post published this week about my other yarn-y adventure – so coma back later :)
Anyways, I have some finishes again! Mitts for myself…
…that should match my headband I posted here – do you think they do? The photo is crappy, I know…
And for my younger son:
They were made as a part of a test for Lyudmyla Vayner. Be sure to check her designs! And see you later!
Posted on : September 1, 2015 | 7 Comments
---
It seems I missed one week completely, but I was busy knitting, lol! And I have some finishes to show! Yay!
First of all, I finally added buttons to the dog's cozy. Still doesn't look like a cozy, so just please imagine a dog inside :P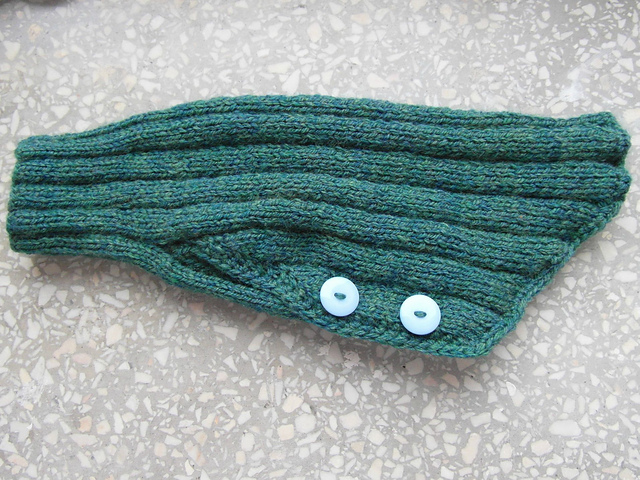 It looks more like a penguin cozy to me (
something like this
), but I hope it'll fit one of the shelter dogs. It turned quite ok, but I wouldn't use that pattern again. Need to crochet the next one :)
I miss crocheting!
Mostly because I've been knitting like crazy lately…
Finished my son's sweater. I was a bit short of the blue yarn, but somehow managed to pull it off.
More photos on my project page
right here
. I also started the
mittens
for my younger son and for myself, too! Sadly, no photos yet. But I'm sure I'll finish both till next Sunday, so I'll be able to show them then. I have one from each set done, so it shouldn't take long to finish them.
Oh, and I must tell you one more thing! I was featured in
Let's Knit
! There's an
interview with me
on the last page :)  They help me promote 
my new book
and the article turned out better than I expected!
The magazine is also great – I must admit I've never had any issue in my hands before. There's a lot of patterns – more than 20 (they say 30 on the cover, I counted fewer, but maybe that's because of my excitement!) and I think everyone will find something for themselves – there are sweaters, accessories, something for kids, for the house and even for the cat :) Apart from that there's also a part to read – a couple of news from the fiber world, an article about charity knitting (something for me!), yarn stores tour (probably more interesting and useful for the UK-based crafters) and the interview of course!I like the Just For Fun / Tea Break page – it's the first time I've seen something like this in a knitting magazine and I really like it – there's a small quiz, a competition and a short article – ideal for a tea break :)
There's also an adorable knitting kit – to make your own cute hedgehog! I'm making it for sure!
Together with Let's Knit we prepared a special giveaway, too! You an win 3 of my patterns – details here: http://buff.ly/1KZtyVi
Posted on : August 25, 2015 | 12 Comments
---
I didn't have much to report last Sunday, so I skipped one post but this time, I do have something done. Well, almost.
I finished the kknitting part of the dog sweater I showed last time. It looks weird unbloked and with no buttons, right?
Maybe from above?
Nope, still weird.
I'm also taking part in the special everything-along (means knitting, crochet, cross-stitch, paper crafts, etc.) that feaures stripes and openwork/lace and I started a sweater from my YoP list (Cadence and Hue by Jenny Wiebe). I'm not sure abpput the colors, though. On one hand – they look awesome together, on the other hand – I'm "earth tones" person, grays, browns, muted colors are what I like. And these are like crazy shades of blue and green. I start to think that they would be more ok for a monster than a sweater. But then again, it's for a kid and they wear bright colors and crazy stuff. What do you think?
I'm also afraid I'll have to add a couple more things to my list because my cousin asked if I could make a few props for children photogrphy for him (he's a photographer) and I LOVE making baby stuff… Oh, if only a day was a few hours longer for the next few years. Would you mind, lol?
Posted on : August 9, 2015 | 12 Comments
---
 A long, looooong time ago I made this tiny dachshund and intended to write a pattern for it. But I somehow felt he needed company, but whose?
I thought another puppy but of a different breed, I though a cat (just like in
this tiny crochet pattern of mine
), but it was not "it". And then the inspiration came. He needed a mommy!
The moment I finished her I knew it was a good idea :) She turned out exactly how I wanted and I think they make a great pair and they will hopefully make a desirable pattern as well (for mother's day maybe?)
And they're pretty cute together, aren't they?
Pattern coming soon (hopefully!)…
Posted on : July 29, 2015 | No Comments
---
Can't believe it's my third post in this Year of Projects! And double wow because I managed to finish something, too! It's another dog cozy for my dog shelter knitting project. I don't have (and won't have) ant "on the dog" photos because I simply don't have a dog model at home. But maybe the shelter's staff will take some photos when the cozies are paired with their new furry owners and I'll be able to update the posts with some "modelled photos". Anywyas, here it is!
I altered the pattern a bit, by adding knitted ribbing around the neck and legs. I also changed the stitch count and the stitch pattern (from elongated sc to hdc). So yeah, I should say, I used t
his pattern
as an inspiraion, rather than "I changed it a bit", lol.
I also have a new design finished, but the photos will be posted in a few days. Yay! I'm so exicted!
P.S. Oh, and I wanted to thank you all so much for your lovely comments, I hope to leave some on your blogs this week, too. Last week I only managed to lurk from my iPad a bit.
Posted on : July 26, 2015 | 14 Comments
---
keep looking »