It seems I missed one week completely, but I was busy knitting, lol! And I have some finishes to show! Yay!
First of all, I finally added buttons to the dog's cozy. Still doesn't look like a cozy, so just please imagine a dog inside :P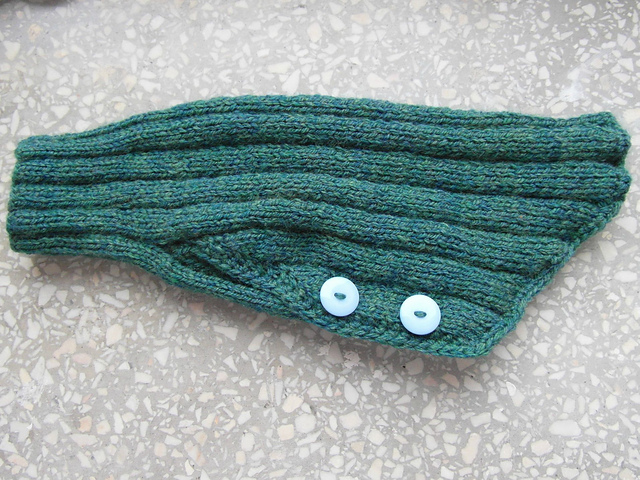 It looks more like a penguin cozy to me (
something like this
), but I hope it'll fit one of the shelter dogs. It turned quite ok, but I wouldn't use that pattern again. Need to crochet the next one :)
I miss crocheting!
Mostly because I've been knitting like crazy lately…
Finished my son's sweater. I was a bit short of the blue yarn, but somehow managed to pull it off.
More photos on my project page
right here
. I also started the
mittens
for my younger son and for myself, too! Sadly, no photos yet. But I'm sure I'll finish both till next Sunday, so I'll be able to show them then. I have one from each set done, so it shouldn't take long to finish them.
Oh, and I must tell you one more thing! I was featured in
Let's Knit
! There's an
interview with me
on the last page :)  They help me promote 
my new book
and the article turned out better than I expected!
The magazine is also great – I must admit I've never had any issue in my hands before. There's a lot of patterns – more than 20 (they say 30 on the cover, I counted fewer, but maybe that's because of my excitement!) and I think everyone will find something for themselves – there are sweaters, accessories, something for kids, for the house and even for the cat :) Apart from that there's also a part to read – a couple of news from the fiber world, an article about charity knitting (something for me!), yarn stores tour (probably more interesting and useful for the UK-based crafters) and the interview of course!I like the Just For Fun / Tea Break page – it's the first time I've seen something like this in a knitting magazine and I really like it – there's a small quiz, a competition and a short article – ideal for a tea break :)
There's also an adorable knitting kit – to make your own cute hedgehog! I'm making it for sure!
Together with Let's Knit we prepared a special giveaway, too! You an win 3 of my patterns – details here: http://buff.ly/1KZtyVi
Posted on : August 25, 2015 | 12 Comments
---
Ha! Tym razem udało mi się zasiąść do pisania wcześniej. A nawet bardzo wcześnie jak na mnie. Wszystko za sprawą awarii na Ravelry. Ile to człowiek nagle ma czasu jak ulubiona strona nie działa… To mi przypomniało, że am niedokończonego posta na temat marnowania czasu w internecie (i o ewentualnym zapobieganiu marnowania), ale dziś nie o tym!
Dziś czas na Dzierganie i Czytanie! Sweterek dla psiaka prawie skończony, czeka na pochowanie nitek i doszycie guzików.
Chwilowo wygląda bardzo głupio…
Zaczęłam też sweterek dla młodszego synka ze wzoru Cadence and Hue projektantki Jenny Wiebe (Podlinkowałabym, ale… Ravelry nie działa! Buuu!). Idzie jak burza, mam już prawie całe plecy i przód, a czasu ostatnio jak na lekarstwo, więc dziergam tylko 5 minut tu, 5 minut tam.
A do czytania (poza Starą Baśnią, którą męczę już któryś tydzień…), mam w tym tygodniu coś super! Przyszła do mnie gazetka z UK – Let's Knit, a w niej –
wywiad ze mną
! Juuhuu! Bardzo mnie ucieszyło, kiedy poprosili mnie o wywiad, a jak zobaczyłam i poczytałam co tam ostatecznie napisali, to buzia mi się śmieje jeszcze bardziej. Wyszło bardzo fajnie. No i promują
moją nową książkę
!
A gazetka sama w sobie bardzo fajna do przejrzenia – muszę przyznać, że pierwszy raz miałam w ręce numer Let's Knit i nie rozczarowałam się. Wzorków jest sporo, bo ponad 20 (na okładce 30, ale nie naliczyłam tyle, hmmm…) i myślę, że każdy znajdzie tam coś dla siebie – są damskie sweterki i akcesoria, coś dla dzieci, coś dla domu, a nawet dla kota :) Poza tym jest też część do poczytania – parę nowości ze świata włóczkowego, artykuł o charytatywnym dzierganiu (coś dla mnie), wycieczka po sklepach z włóczką (to bardziej interesujące dla Brytyjczyków pewnie), no i wywiad :P
Podoba mi się też strona Just For Fun / Tea Break – pierwszy raz widziałam coś takiego w dziewiarskim czasopiśmie – a tam mały quiz, konkurs na podpis do zdjęcia i krótki artykuł – ot taki właśnie do poczytania przy herbatce :)
No i, jak mogłabym zapomnieć, jest też uroczy prezent – wzór na jeżyka i włóczka potrzebna do jego wykonania. Śliczny jest i na pewno go sobie wydziergam. A raczej synkowi, bo go na bank zaraz ukradnie…
Razem z Let's Knit przygotowaliśmy też specjalną "rozdawkę" – do wygrania aż trzy z moich wzorków. Po szczegóły zapraszam tutaj: http://buff.ly/1KZtyVi
Ten post jest częścią zabawy "Dzierganie i czytanie" organizowanej przez Maknetę :)
Posted on : August 12, 2015 | 12 Comments
---
I didn't have much to report last Sunday, so I skipped one post but this time, I do have something done. Well, almost.
I finished the kknitting part of the dog sweater I showed last time. It looks weird unbloked and with no buttons, right?
Maybe from above?
Nope, still weird.
I'm also taking part in the special everything-along (means knitting, crochet, cross-stitch, paper crafts, etc.) that feaures stripes and openwork/lace and I started a sweater from my YoP list (Cadence and Hue by Jenny Wiebe). I'm not sure abpput the colors, though. On one hand – they look awesome together, on the other hand – I'm "earth tones" person, grays, browns, muted colors are what I like. And these are like crazy shades of blue and green. I start to think that they would be more ok for a monster than a sweater. But then again, it's for a kid and they wear bright colors and crazy stuff. What do you think?
I'm also afraid I'll have to add a couple more things to my list because my cousin asked if I could make a few props for children photogrphy for him (he's a photographer) and I LOVE making baby stuff… Oh, if only a day was a few hours longer for the next few years. Would you mind, lol?
Posted on : August 9, 2015 | 12 Comments
---
Dawno, daaawno temu zrobiłam tego maluszka i miałam zamiar napisać na niego wzór. Ale jakoś tak mi nie pasowało puścić go samego i czułam, że potrzebuje towarzystwa.
Myślałam o psiaku innej rasy, albo o kocie (tak jak w przypadku
tego wzorku
), ale to wszystko nie było to… I tak czekał i czekał samotnie. Aż wreszcie natchnienie przyszło – potrzebował mamy!
Jak tylko ją skończyłam, wiedziałam, że to był dobry pomysł :) Wyszła dokładnie tak, jak chciałam i oba psiaki tworzą uroczą parę (i mam nadzieję sympatyczny wzorek – na Dzień Matki?)
Czyż nie są słodkie?
Wzorek już niedługo w sprzedaży (mam nadzieję!).
Posted on : July 30, 2015 | No Comments
---
 A long, looooong time ago I made this tiny dachshund and intended to write a pattern for it. But I somehow felt he needed company, but whose?
I thought another puppy but of a different breed, I though a cat (just like in
this tiny crochet pattern of mine
), but it was not "it". And then the inspiration came. He needed a mommy!
The moment I finished her I knew it was a good idea :) She turned out exactly how I wanted and I think they make a great pair and they will hopefully make a desirable pattern as well (for mother's day maybe?)
And they're pretty cute together, aren't they?
Pattern coming soon (hopefully!)…
Posted on : July 29, 2015 | No Comments
---
A raczej na psa :) Ostatnio jestem tak zarobiona, że jedyne co dziergam to takie bezmyślne dłubanki, czyli na pierwszy ogień idą głównie zaplanowane sweterki dla psiaków ze schroniska. Niedawno skończyłam jeden szydełkowy, o taki:
I tym samym wykończyłam niezbyt urodziwą brązowo-jakąśtam włóczkę. Teraz sweterki będą bardziej kolorowe. Na pierwszy ogień idzie zielony! I
ten wzór
od Dropsa. Myślę, że będzie fajnie pasował, bo jest taki cały ściągaczowy, więc będzie ładnie przylegał.
Książkowo dalej "Stara Baśń", ale tym razem muszę powiedzieć, że zaszalałam i jestem już za połową. Książka jest bardzo specyficzna w takim znaczeniu, że fabuła ciągnie się niby ślamazarnie, ale jednocześnie nawet wciąga, tak, że się te kartki przerzuca w szybkim tempie. Chyba jeszcze nigdy tak nie miałam, żeby mnie książka jednocześnie nudziła i wciągała…
A, prawie bym zapomniała! Skończyłam też nowy maskotkowy projekt – zdjęcia już jutro, więc zapraszam, jeśli ktoś ciekawy co mi się tam wymyśliło (drutowego tym razem!).
Posted on : July 29, 2015 | 10 Comments
---
Can't believe it's my third post in this Year of Projects! And double wow because I managed to finish something, too! It's another dog cozy for my dog shelter knitting project. I don't have (and won't have) ant "on the dog" photos because I simply don't have a dog model at home. But maybe the shelter's staff will take some photos when the cozies are paired with their new furry owners and I'll be able to update the posts with some "modelled photos". Anywyas, here it is!
I altered the pattern a bit, by adding knitted ribbing around the neck and legs. I also changed the stitch count and the stitch pattern (from elongated sc to hdc). So yeah, I should say, I used t
his pattern
as an inspiraion, rather than "I changed it a bit", lol.
I also have a new design finished, but the photos will be posted in a few days. Yay! I'm so exicted!
P.S. Oh, and I wanted to thank you all so much for your lovely comments, I hope to leave some on your blogs this week, too. Last week I only managed to lurk from my iPad a bit.
Posted on : July 26, 2015 | 14 Comments
---
Oh my, I had such a crazy Sunday, I couldn't find time to post my YoP update, so I'm doing it now. Technically, it's Tuesday here alreday, but not everywhere in the world, of course, so I'll count it towards Monday and will insist on not being that much late…
Anyways, I did manage to fnish some of the projects from the list already! Yay! Despite the weekend craziness (we first did some spontaneous huge house cleaning on Saturday and had some lovliest, but a bit unexpected guests on Sunday) the whole week was very productive when it comes to crafting!
Fist of all, I finished one of the dog cozies and even started the next one (crocheted this time). Anyone wants to make some cozies for the dogs in the shelter, too? I'm going to make and donate a few, so that these poor little guys have at least some warmth in their lives.
And also, I whipped this lovely headband in just a few hours. It's warm and squishy and it makes me want to add "s" to the "headband" on my YoP list – I can definitely see some more of these on my needles, soon!
Posted on : July 21, 2015 | 11 Comments
---
Ależ mam robótek skończonych do pokazania, to ho ho! To zaczynam bez przydługiego wstępu. Tym razem znów tylko dzierganie, bo "Starą Baśń" męczę bardzo powolutku… Po pierwsze, udało się skończyć niebieskie bolerko. Nie udało się tylko zrobić porządnych zdjęć. No trudno :( Ostatecznie wybrałam guziczki z listkami i nie żałuję.
Po drugie, jeden schroniskowy psiaczek też ma już ubranko. Strasznie ciężko się toto fotografuje, więc ponownie nie liczcie na udane zdjęcia. I przy okazji dalej namawiam do przyłączenia się, jeśli ktoś ma ochotę. Im więcej psich sweterków tym więcej merdających schroniskowych ogonków!
I w końcu, zupełnie niespodziewanie, taka sobie opaseczka. Zaczęłam ją wczoraj wieczorem, dla odstresowania i tak mnie wciągnęła, że przesiedziałam przy niej do 2 w nocy. Ale nie skończyłam – zostało parę rzędów, które zrobiłam po 4 (tak, tak, po 4 rano), bo mój młodszy syn stwierdził, że to odpowiednia pora na zabawę i zamiast się męczyć i go usypiać pilnowałam go i kończyłam opaskę :)
Wzór
stąd
. Mogę jak najbardziej polecić :) A co tam u Was w tym tygodniu?
Ten post jest częścią zabawy "Dzierganie i czytanie" organizowanej przez Maknetę :)
Posted on : July 15, 2015 | 2 Comments
---
keep looking »