I'm a bit late announcing this, but you're not late for the huge Gift-A-Long sale (the coupon giftalong2015 is valid till November 27, 2015 at 11:59 pm US EST)! And definitely not for the event itself, as it lasts till December 31 at midnight (US-EST).
Over 5000 patterns
are discounted for the event and the discount is quite generous, too – it's
25%
! You'll find all kinds of patterns there – crochet and knitting, wearables, accessories, toys, home decor and what not.
It's worth to at least give it a look, you say?

Well, there are several ways to browse through the GAL patterns. On Ravelry, you may want to try this bundle for the discounted patterns: http://www.ravelry.com/bundles/gift-a-long-2015-sale-patterns-2 or this one for all patterns eligible for the GAL and prizes: http://www.ravelry.com/bundles/gift-a-long-2015-designers–eligible-patterns

You may also try a Pinterest board, if you prefer: https://www.pinterest.com/IndieDesignGAL/



Did you say prizes?


Yes, I did! And there are plenty! There are over 2000 electronic prizes and LOTS of physical prizes – yarn, stitch markers, books, buttons, projects bags… You know you want to have a chance to win one of these…

That's not all – just like last year, I'll be having some interviews with some of the Gift-A-Long deisgners, so stay tuned! Maybe you'll discover your new favorite designer?
Posted on : November 24, 2015 | No Comments
---
I just wanted to wish Happy Halloween to those who celebrate it :) My newest design says hi, too!
Posted on : October 31, 2015 | No Comments
---
This is the time! As last year, Dr Hookenstein is trying to take control over the world! We need to stop him!
Our spies did a basic research and called for more people, that's why we're asking you for help. This is their report:
"After his epic failure last year, Dr Hookenstein has doubled his efforts to take control over the people's minds and, eventually, of the whole world. He revised his last attempt and, although it has failed, he thinks it still has some strong points like cuteness and yarn. Definitely yarn… He won't admit it, but he got a bit obsessed, too. Only a few months ago it was hard for him to understand why perfectly normal adults visit yarn stores a few times a week and fight over cotton on sale. His stash grew a bit and is now a size of a shoebox (but he has big feet, so that's a big box *). He also accumulated a middle-sized bag of scraps already and, as we suspect, he plans to use them in his newest plan as well. His favorite yarn is still worsted.
As we found out, he hired another assistant, hoping that this one won't take bribes (as the last one did), but we already checked and this guy is willing to sell any information for the right price. We made a test and easily got to know what color is Dr Hookenstein's underwear (it's blue*).
Since the new guy is really cooperative, we managed to determine the number of creatures that will be created to manipulate people's minds. Again, the sooner we get the plans, the sooner we will make the creatures ourselves and spoil Dr Hookenstein's evil plan. Anyways, we expect three creatures, and (due to some overzealous newbies*) we more or less know the looks of one of them. And the yarn that could be spotted is lack, orange, brown and gray…"
We also expect that one mysterious creature might be hidden in the cellar, but we're not sure if there are any adventurous agents who'd like to go down the cellar stairs to check it. Especially, that they'd need to bribe the assistant first, but we'll see. We'll be sending you the supersecret laser pens and notebooks really soon so that you can take notes and start working asap!
*Added by an overzealous spy. He's new, so you know, he still cares…
Interested in helping our Agency stop him? Visit our R.A.V.E.L.R.Y headquarters and get all the necessary info there!
Posted on : October 18, 2015 | 3 Comments
---
I'm working on the mystery CAL we will have in my Ravelry group soon (You're all invited! Feel free to ask if you have any questions!) and because I was asked about the recipe, I decied to write about pancakes today! And not the usual pancackes, but deliciuos and fluffy peanut butter pancakes. Oh, yeah!
I was looking for a good peanut butter recipe and found two trends – with the addition of bananas or baking powder. I decided I need both in mine to make the both sweeter and softer. And definitely in bigger quantities than 4 – 10 (the usual recipes were for this amount). But I'm a pancake-eater and have 3 more hungry pancake-eaters, so we needed more. I made my own version, then, and they turned out great!

Sorry for  not having more photos, but I wasn't expecting so much interest and didn't even plan writing about it :)
Recipe
Ingredients:
3 eggs
9 heapieng teaspoons of creamy peanut butter (I use natural, with no additions)
120g flour (mine was mixed all puropse and whole wheat flour)
1 cup milk (can be more or less depending on the size of eggs and banana, so don't add everything at once)
1 big, ripe banana
1/2 teaspoon baking powder
Instructions:
Mix eggs with peanut butter, add banana and then milk and flour mixed with baking powder (small amounts, in turns). Heat the frying pan (with no oil or butter – they will fry well without them, due to the fat from the peanut butter). Using a table spoon, pour the batter on the pan and fry on the minimal heat (they need to fry slowly, so that they're good inside and not burned on the other side). You will see some bubbles or even tiny holes appearing – this is the time to flip them. They other side needs less time frying, so just check when they're browned and take them off the pan.
Since they're not sweet, I recommend eating them with chocolate, honey or maple syrup :)
Posted on : October 3, 2015 | No Comments
---
Yay! Time for a new crochet-knit-along! The theme we have this time is really broad – you can make a cat or a dog or something rain-related, like my
November Crocodile
:) Here's a little teaser, you know you one one of these…
The rules are simple:
1. Create a project based on one of Cute and Kaboodle's patterns – anything that fits the theme "it's raining cats and dogs", so it can be a cat or a dog or… something like November Crocodile or whatever else you can think of! I know we have lots of creative people in this group!
2. If you're on Ravelry, create a project page for it and link it to the pattern.
3. Post a photo of your finished project in this thread so that we can all admire it (you can do it on Ravelry and Facebook).
4. Repeat steps 1 – 3 if you want :)
5. In the meantime wait impatiently for another Dr. Hookenstein's CAL (we had a blast last year, you can read about it on Ravelry). He's already started plotting…
6. Most importantly – have fun!
Time frame:
7th of September 2015 till 4th of October 2015 (may be flexible, if needed).
I decided to take part in the CAL as well and created this little kitty. He was really fun to make and I used a free pattern of mine.
Which one? – you'll ask. Well, believe it or not, but it's Bunny and Bear Buddies. How did I get the ears and tail? From my shapes tutorial :) See, all free and easy to make. I just used thinner contrasting yarn because I didn't have any good brown color in the main color weight. So instead of making 8sts for the hands, I started with 6, than increased in every stitch for 12 sts, worked one round even (12 sts) and then decreased to 6 (sc2tog x 6) with main color and continued as the pattern says. The ears are made with my triangle I tutorial and the tail with a tube tutorial (tube I to be exact). Easy, right? So maybe you'll try and make one, too? I'd love to see them!


Posted on : September 10, 2015 | No Comments
---
Witam po dłuższej przerwie… Częściowo byłam zabiegana i po prostu nie miałam czasu blogować, a częściowo nie było mnie dlatego, że padła mi strona :( Na szczęście mąż już pomógł naprawić i mam nadzieję, że obejdzie się bez przerw. Jeśli chodzi o
Dzierganie i Czytanie
to i dziergam i czytam :) Skończyłam "Starą Baśń", i serio nadal nie wiem, jaka byłaby sprawiedliwa ocena, trochę nudna, trochę wciągająca, język taki średni… Ostatecznie więc wypadła nie najlepiej, chociaż nie żałuję spędzonego nad nią czasu. Teraz zabrałam się za kryminał, bo już się zdążyłam stęsknić za kryminałami :) Książkę nabyłam
tu
i tak chyba lubię kupować najbardziej – żeby przy okazji wesprzeć jakiś szczytny cel (dlatego zaglądam też
tutaj
– gratka dla moli książkowych, bo większość książek idzie za 7PLN). Na razie sam początek, więc się nie wypowiadam, ale zapowiada się nieźle. Pierwszy raz sięgnęłam po tego autora i mam nadzieję, że się nie zawiodę!
Dla młodszego synka zaczęłam
Latte Baby Coat
– idzie fajnie, starszemu też zrobię, już nawet mam włóczkę :D Fajnie będą wyglądać w podobnych kurteczkach, aż się nie mogę doczekać. Młodszy dostanie zielony, a starszy szarobrązowy :)
Zaczęłam też maskotkowe maleństwo na wspólne szydełkowanie, które organizuję na
Ravelry
i
Facebooku
, ale o tym szerzej jutro :)
Ten post jest częścią zabawy "Dzierganie i czytanie" organizowanej przez Maknetę :)
Posted on : September 9, 2015 | 3 Comments
---
Aaand knitting continues… I miss crocheting a lot. Really. I'm working on a submission that is crocheted, but that's too little it seems!
Today's post will be superquick as I'm superbusy. But I hope to have another post published this week about my other yarn-y adventure – so coma back later :)
Anyways, I have some finishes again! Mitts for myself…
…that should match my headband I posted here – do you think they do? The photo is crappy, I know…
And for my younger son:
They were made as a part of a test for Lyudmyla Vayner. Be sure to check her designs! And see you later!
Posted on : September 1, 2015 | 7 Comments
---
It seems I missed one week completely, but I was busy knitting, lol! And I have some finishes to show! Yay!
First of all, I finally added buttons to the dog's cozy. Still doesn't look like a cozy, so just please imagine a dog inside :P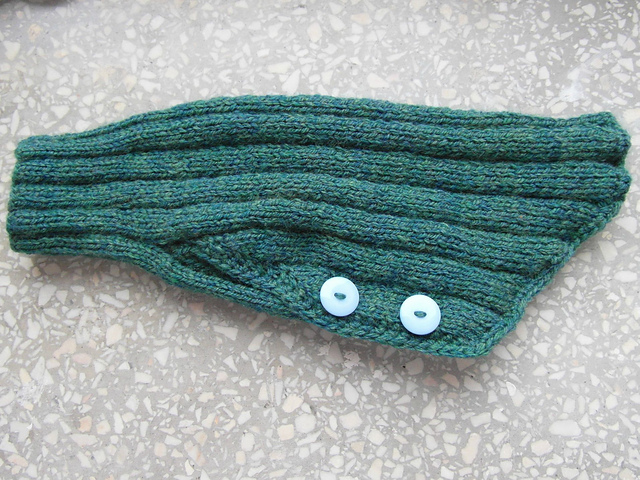 It looks more like a penguin cozy to me (
something like this
), but I hope it'll fit one of the shelter dogs. It turned quite ok, but I wouldn't use that pattern again. Need to crochet the next one :)
I miss crocheting!
Mostly because I've been knitting like crazy lately…
Finished my son's sweater. I was a bit short of the blue yarn, but somehow managed to pull it off.
More photos on my project page
right here
. I also started the
mittens
for my younger son and for myself, too! Sadly, no photos yet. But I'm sure I'll finish both till next Sunday, so I'll be able to show them then. I have one from each set done, so it shouldn't take long to finish them.
Oh, and I must tell you one more thing! I was featured in
Let's Knit
! There's an
interview with me
on the last page :)  They help me promote 
my new book
and the article turned out better than I expected!
The magazine is also great – I must admit I've never had any issue in my hands before. There's a lot of patterns – more than 20 (they say 30 on the cover, I counted fewer, but maybe that's because of my excitement!) and I think everyone will find something for themselves – there are sweaters, accessories, something for kids, for the house and even for the cat :) Apart from that there's also a part to read – a couple of news from the fiber world, an article about charity knitting (something for me!), yarn stores tour (probably more interesting and useful for the UK-based crafters) and the interview of course!I like the Just For Fun / Tea Break page – it's the first time I've seen something like this in a knitting magazine and I really like it – there's a small quiz, a competition and a short article – ideal for a tea break :)
There's also an adorable knitting kit – to make your own cute hedgehog! I'm making it for sure!
Together with Let's Knit we prepared a special giveaway, too! You an win 3 of my patterns – details here: http://buff.ly/1KZtyVi
Posted on : August 25, 2015 | 12 Comments
---
Ha! Tym razem udało mi się zasiąść do pisania wcześniej. A nawet bardzo wcześnie jak na mnie. Wszystko za sprawą awarii na Ravelry. Ile to człowiek nagle ma czasu jak ulubiona strona nie działa… To mi przypomniało, że am niedokończonego posta na temat marnowania czasu w internecie (i o ewentualnym zapobieganiu marnowania), ale dziś nie o tym!
Dziś czas na Dzierganie i Czytanie! Sweterek dla psiaka prawie skończony, czeka na pochowanie nitek i doszycie guzików.
Chwilowo wygląda bardzo głupio…
Zaczęłam też sweterek dla młodszego synka ze wzoru Cadence and Hue projektantki Jenny Wiebe (Podlinkowałabym, ale… Ravelry nie działa! Buuu!). Idzie jak burza, mam już prawie całe plecy i przód, a czasu ostatnio jak na lekarstwo, więc dziergam tylko 5 minut tu, 5 minut tam.
A do czytania (poza Starą Baśnią, którą męczę już któryś tydzień…), mam w tym tygodniu coś super! Przyszła do mnie gazetka z UK – Let's Knit, a w niej –
wywiad ze mną
! Juuhuu! Bardzo mnie ucieszyło, kiedy poprosili mnie o wywiad, a jak zobaczyłam i poczytałam co tam ostatecznie napisali, to buzia mi się śmieje jeszcze bardziej. Wyszło bardzo fajnie. No i promują
moją nową książkę
!
A gazetka sama w sobie bardzo fajna do przejrzenia – muszę przyznać, że pierwszy raz miałam w ręce numer Let's Knit i nie rozczarowałam się. Wzorków jest sporo, bo ponad 20 (na okładce 30, ale nie naliczyłam tyle, hmmm…) i myślę, że każdy znajdzie tam coś dla siebie – są damskie sweterki i akcesoria, coś dla dzieci, coś dla domu, a nawet dla kota :) Poza tym jest też część do poczytania – parę nowości ze świata włóczkowego, artykuł o charytatywnym dzierganiu (coś dla mnie), wycieczka po sklepach z włóczką (to bardziej interesujące dla Brytyjczyków pewnie), no i wywiad :P
Podoba mi się też strona Just For Fun / Tea Break – pierwszy raz widziałam coś takiego w dziewiarskim czasopiśmie – a tam mały quiz, konkurs na podpis do zdjęcia i krótki artykuł – ot taki właśnie do poczytania przy herbatce :)
No i, jak mogłabym zapomnieć, jest też uroczy prezent – wzór na jeżyka i włóczka potrzebna do jego wykonania. Śliczny jest i na pewno go sobie wydziergam. A raczej synkowi, bo go na bank zaraz ukradnie…
Razem z Let's Knit przygotowaliśmy też specjalną "rozdawkę" – do wygrania aż trzy z moich wzorków. Po szczegóły zapraszam tutaj: http://buff.ly/1KZtyVi
Ten post jest częścią zabawy "Dzierganie i czytanie" organizowanej przez Maknetę :)
Posted on : August 12, 2015 | 12 Comments
---
keep looking »